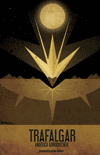 I am a literary translator, Spanish > English. My published translations include The Potbellied Virgin and Beyond the Islands (Alicia Yánez Cossío, Ecuador) and Trafalgar (Angélica Gorodischer, Argentina).
Read my translation of "Absit," by Angélica Gorodischer, at Necessary Fiction.
My translation of Gilda Holst's story, "Reunion," appears in Translation Review 79 (spring 2010).
Find sample stories from Trafalgar  at Tor.com, Belletrista and Eleven Eleven. Or listen to my reading of "The González Family's Fight for a Better World" at Small Beer Press Podcast 17.