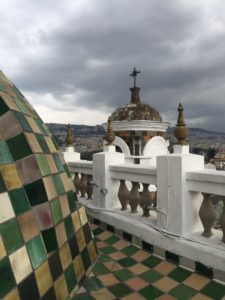 I don't know if I'm afraid of heights, or afraid of getting down from heights–of not getting down–but when the guide said, it looks like rain, let's start on the roof, I followed her up. Not wanting to miss anything, ready to add to my photo collection, eager to take in every nook and cranny open to the tour. It was just the two of us, me and the guide. She was maybe half my age, if that, with a big set of keys and a comforting sweater that looked a little thin.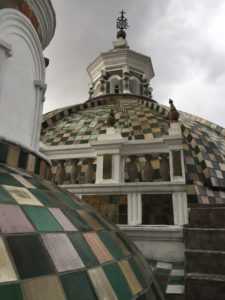 Blame breathlessness on altitude. I'd crossed other roof terraces, assembled albums of panoramic views and crisscrossed stonework, looming towers, plastered walls. Here it was rain-slick emerald tiles, narrow streets, tiny steps, stacked domes. I climbed everything she let me climb, but I didn't linger for that final photo at the top. I savored my daring for a moment–or half a moment, a quarter–but I was thinking about getting down, thinking ahead to rescue, to the held breath's blessed release. In the moment, yes, but part of the moment is the plan for its completion, the survival plan, the escape hatch. The painstaking backing back down those tiny stairs. I had resolved to climb, but I had to resolve the climb by climbing down.
First, resolute, I looked out over Quito. Thought about how to solve the pickle I'd gotten myself into, even as I was (mostly) enjoying the view. Which brings me to the resolution of shift, distortion; of dissolve–the image that blurs and then resolves into another, the pickle I'd gotten myself into, the pickle green of the slick, appealing tile, but no, not pickle, but emerald, jungle,  eucalyptus leaf and palm frond, agave–penco–dark with rain.